UTokyo hosted a winter program entitled "Environment and Sustainability" in collaboration with Princeton University. For UTokyo students, this was part of the Go Global Gateway program. A total of nine undergraduate students (five UTokyo and four Princeton students) participated in the program to study about sustainability, from the perspectives of climate justice, nuclear power, performing arts, SDGs, demography, and others. After the icebreaking and orientation by Professor Yujin Yaguchi and Assistant Professor Sho Shimoyamada on the first day, the students listened to lectures by distinguished guests and engaged in active discussions. The speakers were:
Syukuro Manabe (Princeton University)
Jin Sato (UTokyo) "Justice and Climate Action: Resilient Communities in Asia"
Gregory Jaczko (Princeton University) "Nuclear Power: Climate Savior or Opportunist?"
Karen Shimakawa (NYU) "Performing Possible Future"
Sayuri Ichikawa (Permanent Mission of Japan to the United Nations) "What does my work and career mean for my life?"
One of the highlights of the week was a discussion session with Professor Syukuro Manabe, Senior Meteorologist at Princeton University and the winner of the 2021 Nobel Prize in Physics. Professor Manabe briefly explained his pioneering research of climate modeling and encouraged students to pursue their interest and passion, whatever it may be. His talk prompted the students to ask many questions about climate change as well as challenges he faced in his research. Students also asked about academic life at Princeton University and sought advice about their career.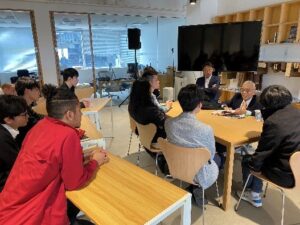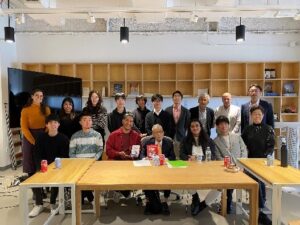 Among other sessions students enjoyed was a film night where they watched the Japanese animation film "Weathering with You." The film, which portrays Tokyo becoming submerged under water as a result of a long protracted rain due to severe climate change, triggered many questions and comments.
The students also explored New York City every afternoon, visiting museums and other sites as well as eating together at local restaurants.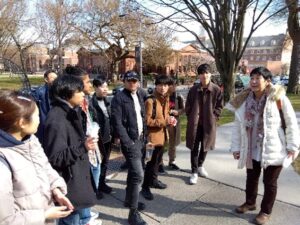 On March 17, the students left New York City and visited Rutgers University to attend a lecture by Dr. Haruko Wakabayashi on the Japanese students who studied at the institution in the nineteenth century, including Taro Kusakabe. Students learned about the commitment and hardship of these early Japanese students and later visited gravesites of some of the students who passed away before being able to return to Japan.
Following the time at Rutgers University, students moved to Princeton. On March 18, they attended a lecture on population modeling and the aging Japanese society by Professor James Raymo of Princeton University.  As population decline is one of the most important issues facing the Japanese society today, the lecture inspired many questions from the students.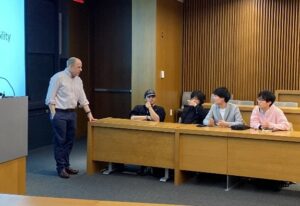 After the lecture, Lynn Hirose--, a former UTokyo student currently studying at a graduate program (Atmospheric and Oceanic Studies) in Princeton ---, gave a presentation about her research and life at Princeton University.
Through a variety of academic and non-academic activities, the students of the two universities formed a strong bond. Not only were they able to enhance their understanding and awareness of sustainability, but they were also able to learn from each other and reflect on cultural and social values that they had often taken for granted. We hope this will serve as a model of educational partnership between UTokyo and Princeton in the future.