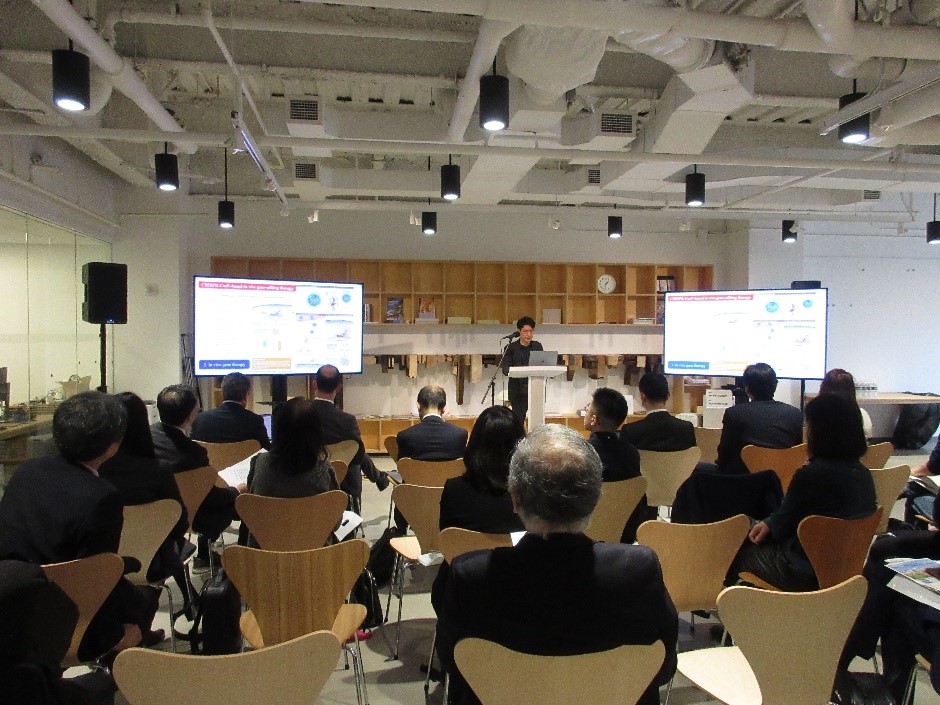 The "IMSUT NY Seminar 2023" hosted by the Institute of Medical Science, the University of Tokyo (IMSUT) was held on Friday, February 17, 2023, at the New York office of the University of Tokyo (UTokyoNY) under the theme of "Frontiers in Medical Sciences and their Exploding Clinical Applications". The seminar was attended by about 20 participants from universities and research institutes in the U.S., as well as companies and organizations in various fields. The event was the first time in four years that IMSUT held a complete on-site event in New York.
The first half of the seminar began with a video message from Prof. Yuji Yamanashi, Dean of IMSUT introducing the history of UTokyoNY, an outline of IMSUT and the seminar, followed by lectures by Prof. Tomoji Mashimo, Dr. Samuel Sternberg (Columbia University), and Ms. Mariko Kanai, the 5th New York Hideyo Noguchi Memorial Scholarship 2022 recipient (Currently a doctoral student at Columbia University).
In the second half after the break, Prof. Makoto Nakanishi and Prof. Yoichi Furukawa gave lectures, and the seminar concluded with a talk by Dr. Scott Lowe of the Sloan Kettering Institute.
This year's seminar was facilitated by Dr. Yuichiro Kuwama, Vice President of UTokyoNY, with his opinions and questions from his perspective as a physician, making the seminar very easy to understand for the general public. The content of all the lectures seemed to be very interesting to the participants, and there were so many lively discussions that there was not enough time for Q&A. The seminar concluded with closing remarks by Vice Dean of IMSUT, Prof. Makoto Nakanishi.