The University of Tokyo held the "Convergence of Peace Activities" exhibition at the University of Tokyo New York Office (UTokyoNY) from August 6 to 7, 2011, under the planning and management of the Hidenori Watanabe Laboratory of the Interfaculty Initiative in Information Studies.

The event marked the first exhibition of the UTokyoNY Office, and coincides with the Nuclear Nonproliferation Treaty review conference held throughout August at the United Nations headquarters in New York, and the memorial days of the World War II atomic bombings of Hiroshima and Nagasaki.

The show's theme was to create a "convergence" in New York — the site of the NPT review conference at the U.N. — that connects and integrates diverse peace activities in the U.S. and Japan, on the occasion of the conference and the atomic bomb memorial days. The hope was for the event to be the beginning of a new generation of peace activities that transcends national borders and ideologies, using technologies to help us connect with each other.

At the preview, to which local NPOs, NGOs, and UN officials were invited, Mr.Sueichi Kido, Ms.Masako Wada, and Mr.Jiro Hamasumi, who participated in the NPT Review Conference, shared their A-bomb experiences with the cooperation of the Japan Confederation of A- and H-bomb Sufferers Organizations (Japan Confederation of A- and H-bomb Sufferers Organizations). Hibakusha shared their experiences of the atomic bombings using digital archives and colorized photos on display, and engaged in lively dialogue with the visitors.

The exhibition was very active with more than 150 visitors throughout the exhibition period. The exhibition attracted a great deal of attention, receiving more than 10 mass media interviews from Japan and U.S. In addition, online exchanges with visitors have continued, and we expect that this exhibition will be a springboard for various collaborations in the future.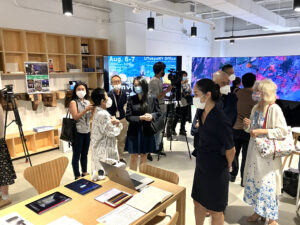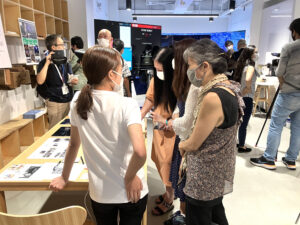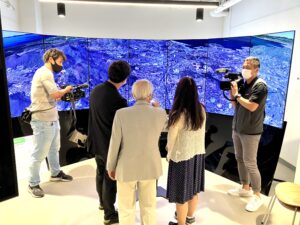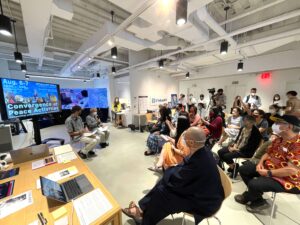 NHK WORLD - JAPAN
https://www3.nhk.or.jp/nhkworld/en/ondemand/video/2058959/
NIPPON TV NEWS
TBS